talkhealth launches new collaboration with Ichthyosis Support Group
Around 200 to 400 people are diagnosed with a form of ichthyosis every year. With other skin conditions having much higher incidence rates, this group of conditions is often faced with a lack of awareness and misunderstanding. That's why talkhealth are working with the Ichthyosis Support Group (ISG) to increase patient understanding of the condition within our mutual communities and the wider population.
We are delighted to announce this new collaboration that will harness our educational events and features to create a patient-centric campaign. Over the coming months, the talkhealth team will be working closely with ISG to increase the resources, conversations and representations of ichthyosis within the patient arena. The campaign will highlight the debilitating effects of the condition under the message of 'Ichthyosis is not just a bit of dry skin!'.
What is Ichthyosis?
Ichthyosis is a group of skin conditions that cause continuous dryness and scaling. Unlike other more common skin conditions, like eczema, ichthyosis often affects the whole body. There are over 30 different forms of the condition that can be inherited at birth or acquired later in life. It's thought that 1 in 80 people live with the most common form, Ichthyosis Vulgaris, which is characterised by rough skin with grey scaling.
As few as 1 in 250,000 people are affected by the worst form of ichthyosis
Who are the Ichthyosis Support Group?
The ISG aims to preserve and protect the health of and to relieve people who are affected by ichthyosis and any associated condition through accessible and educational events for individuals and their families. The group is dedicated to promoting and funding research into the causes of ichthyosis to eventually find a cure. It does this in a number of ways, including information packs, newsletters and online and in-person events like family conferences and residential camps for children.
We need your help!
With the help of ISG, we are hosting two online events that help to will engage our mutual memberships and the wider population with their skin condition. But, behind every great campaign is an even better sponsor. That's why we are on the hunt for a partner, new or old, to boost this launch.
Sponsor…
TH+ Expert Webinar with IGS
Ichthyosis Expert Online Clinic with IGS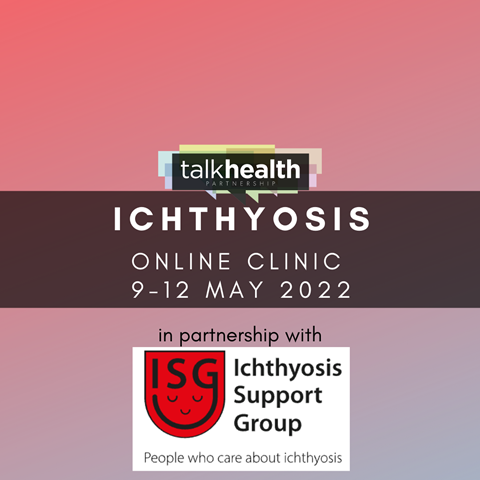 For £1,500 each or £2,500 for both events
What's in it for me?
Those of you that have worked on campaigns with us before know how important sponsors are to our business, that's why we like to offer as much coverage and inclusion as possible. When you sponsor a campaign you benefit from:
• co-branding on all communications and press releases
• promotion on our events page & webinars on-demand
• inclusion in our weekly events newsletter
• social media – Twitter, Instagram & Facebook
• promotion on specific health hubs